Interesting article in the Guardian on Monday in regards to graduate fashion week. The educational system gives students an unrealistic vision of what their future in fashion and earning potential might be, given that the industry cannot  support the amount of graduates leaving universities every year.
With Graduate Fashion Week upon us, the industry is taking a long, hard look at the economic reality of being a fashion student in London right now. And it's not pretty.
After the government cut the maintenance grant for hardship and students had to start paying for their higher education via a series of loans, the university experience has been irrevocably altered. It's been a long time since such big names as J W Anderson's founder Jonathan Anderson and Jimmy Choo graduated from the London College of Fashion and Central St Martins, respectively. "Things have become very difficult for students in the last year because they can't access grants now. You have to borrow everything and that's a big change," says Michele Buchanan, outreach manager at the London College of Fashion.
Buchanan says the majority of the college's students have to live at home because they can't afford the rent. Plus, there are part-time jobs and other financial concerns at play. "Lots of our students who come through our Outreach programme are looking after younger siblings, so there's that to contend with too."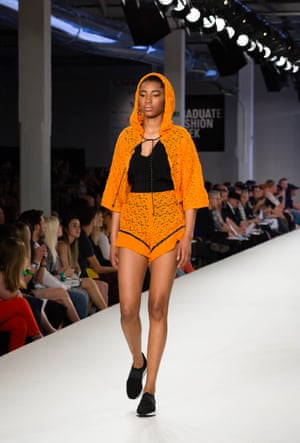 For those of us who believe in the democracy of further education, the new reality of sole domination by upper-class students is a bitter reality to swallow. "Great talents, from John Galliano to Christopher Kane, went to university when there were no fees," says Sarah Mower of the British Fashion Council. "The reputation of Britain's fashion industry relies on intelligence from all classes." Instead, in 2016 it's only wealthy people who can afford further education. The trickle down from that is affecting creativity. According to Una Burke, lecturer and 2009 London College of Fashion alumnus, who is not from an affluent background, the aesthetic output from fashion institutions is in danger of becoming homogenised. "I think when you've had to struggle it forces you to be more creative and resourceful. Your designs become more boundary-pushing."
Full article: http://www.theguardian.com/fashion/2016/jun/06/graduate-fashion-week-why-money-more-than-talent-key-education-british-fashion-council